On Friday November 6th, India's solar industry saw the nationwide launch of the highly anticipated HT series by GoodWe. The Suzhou-based multinational is widely recognized as a world leader in commercial and industrial projects, but has recently added larger, higher performing solutions to its utility portfolio. The event, held at the Pullman Resort in New Delhi, was attended by prominent figures in India's solar industry and provided an insight into other projects that GoodWe may be considering.
During the panel discussion, YBK Reddy, DGM – Solar (SECI) emphasized that the demand for power in India is expected to reach 300 GW and that the government has plans for hybrid tenders using solar and other renewable energy sources in their energy matrix. It is expected that more efficient component products and more reliable system solutions will be required to meet demand.
GoodWe appears to have anticipated many of these requirements, and the success of the 1500V string inverter introduction has been viewed by many as a moment of truth. The new HT series is said to offer the lowest electricity costs (LCOE) and the most advanced security features in the industry.
The debate at the Pullman Resort touched on various trending topics, including the long-term comparison of central and string inverters as well as the challenges and opportunities of the "600+ wafer era".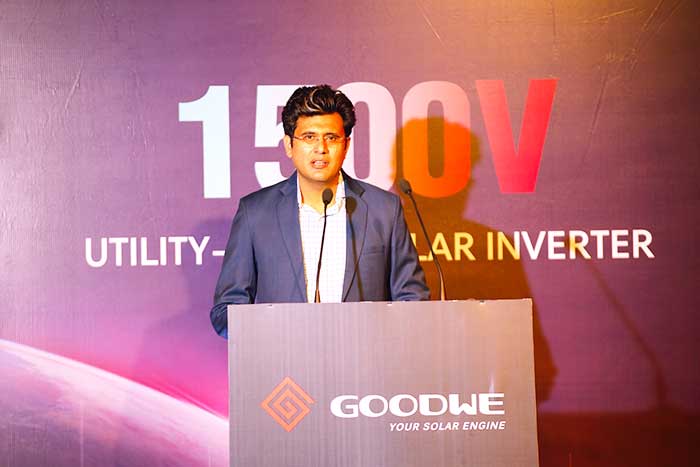 String inverter VS central inverter
Mr. Gaurav Wadhwa emphasized that string inverters are the better choice and offer advantages in terms of BoS costs. Mr. Sudhir Pathak added that the latest PV project designs now require less space with larger block sizes. Pathak added that this is the logical path for string inverters. be more compact and intelligent than ever usefulness Projects.
The era of high-performance PV modules
In terms of technological trends, the "big" era is now here, with the output of PV modules increasing from 500W to 600W +. At the HT product launch in New Delhi, Syed Naqvi agreed that increasing the wafer sizes and the number of wafers in PV modules will be a challenge for inverter manufacturers, and increasing the amperage of PV modules will also require the inverter technology to be one Shift up a gear. In this regard, GoodWe appears to have anticipated this trend as well, which is reflected in its new product offering. The 1500V 250kW should be highly compatible with the latest high-performance PV modules and bi-facial modules and enable DC input currents of 15A.
GoodWe has received congratulations from industry leaders and GoodWe's vision for 2021 already offers significant investment opportunities and is likely to play a key role in the country's additional installed capacity targets for the 2021-2025 period.