Committed to local and Make In India initiatives, USHA SHRIRAM has revolutionized the way people think about solar energy with the introduction of a unique line of solar off-grid combo systems.
USHA SHRIRAM, the country's trusted consumer brand, has launched a unique line of highly efficient solar off-grid combo systems that seamlessly power critical loads, especially in locations where no power grid is available. This is particularly important in connection with India's efforts to publicize the use of solar energy and to make the country independent in the manufacture of solar systems, in which USHA SHRIRAM has created a clear advantage over its colleagues.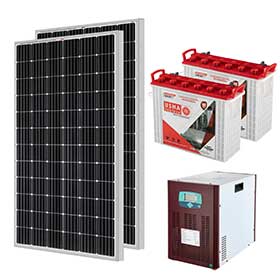 USHA SHRIRAM is a big name among the manufacturers of solar power systems and has launched solar off-grid combo systems in two versions: PWM solar PCU with solar C-10 batteries that run on 12 V Solar modules are operated, and MPPT-Solar-PCU with Solar-C-10 batteries, operated by 24 V solar modules. Both Solar Power Conditioning Units (PCUs) are equipped with an integrated system consisting of a solar charge controller, mains charger, inverter and solar batteries that are operated with solar modules. Therefore, they offer a complete solution for off-grid applications.
Satnam Sandhu, Executive Director of USHA SHRIRAM, announced the launch of USHA SHRIRAM Solar Off-Grid Combo Systems and said, "We are contributing to the government's ambitious program to start the solar energy revolution and bring solar energy through to the mainstream innovative solutions to our valued customers. Here we present the unique USHA SHRIRAM Solar Off-Grid Combination Systems, which are not only extremely inexpensive and easy to install, but also offer unparalleled green energy solutions as they significantly minimize our carbon footprint by reducing our dependence on fossil fuels reduce. Above all, we remain committed to the Make in India initiative and look forward to reducing imports of solar panels and various other components as we continually strive to make solar power systems futuristic. "
The PWM solar PCU (Pulse Width Modulation) with solar C-10 batteries, which is operated with 12 V solar modules from USHA SHRIRAM, slowly reduces the charging current to heat and gas the battery, while the charging process continues to the maximum Amount of energy returns to the battery in a very short time. This benefits consumers with higher charging efficiency, fast charging and a healthy battery at full capacity.
On the other hand, the MPPT solar PCU (Maximum Power Point Tracking) introduced by USHA SHRIRAM with Solar C-10 batteries that are operated with 24 V solar modules converts a direct current output from solar modules with higher voltage into that for charging required lower voltage around batteries. Hence, these products are there to revolutionize the way people think about solar energy as they are self-sustaining and provide a compact off-grid renewable energy solution even in rural and remote areas. In addition, they provide excellent power solutions in cities where blackouts are frequent and lengthy.
Press release from USHA SHRIRAM.