Do you want to fight climate change and save energy costs for your home? A properly installed solar panel system can free you from your fossil fuel dependency and help you save on electricity bills almost instantly.
Here's what you need to know before making a decision to buy solar panels and the information you need to know in order to get a quote from an installer.
Are Solar Panels a Good Idea in Melbourne?
Melbourne is known for its capricious and changeable climate. From December to February the area warms up with lots of sunshine. June and July are often cold with drizzle and October is known to have the most rain.
The Bureau of Meteorology (BOM) shows an annual rainfall of approximately 533 mm. BOM also reports that a Melbourne home receives around 4.18 kilowatt hours (kWh) of sunshine per square meter every day.
What return can you get from solar panels in Melbourne?
No solar system is 100 percent efficient, but to get an estimate of your return on investment from solar panels in Melbourne we will dive into the optimal efficiency.
A single kilowatt kW solar system in Melbourne can generate 4.18 kWh – 4.8 kWh of energy per day. With a 2 kW system, you can expect approximately 8.36 kWh – 9.6 kWh per day. If you have a 10 kW system that works 80 percent in Melbourne, you can expect 31.4 kW to 36 kWh.
According to Solaray Energy, a small 5kW system can produce 20kWh per day, which can save about $ 500 a quarter if a home uses all of the electricity it produces. You can also install a battery storage system to save excess solar power for later use.
Depending on your energy retailer, you may also be able to earn tariffs on the extra electricity your system generates and feeds back into the grid.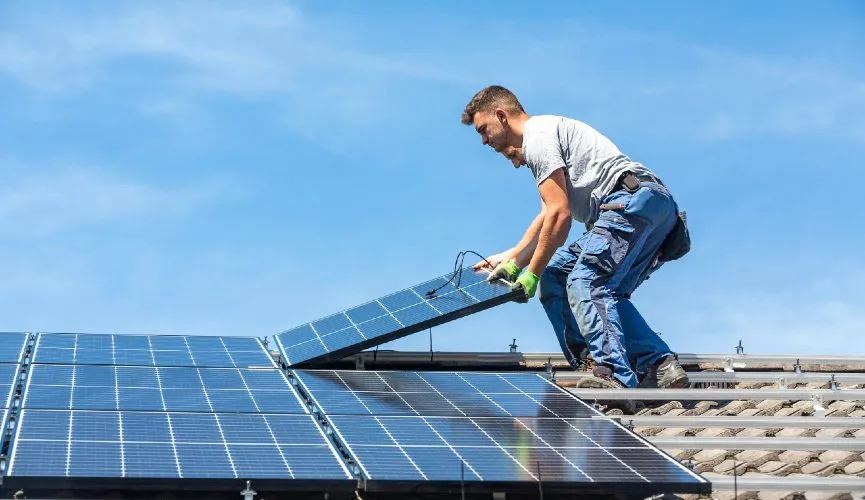 How is the installation of solar panels carried out?
Solar panel installers in Melbourne typically follow a standard pattern. Below is a brief explanation of the solar panel installation process.
A roof and site assessment that measures the roof, verifies structural integrity, and collects readings to check for variations in sunlight and shading.
The solar installer explains the various solar modules, manufacturers and inverters as well as the roof placement to the home owner.
The necessary permits and documents are in place before the installation begins.
The roof is prepared, the electrical cables are connected, the shelves are installed and the solar panels are attached to the shelving system. The inverter system is connected to the panels and all connections are made to immediately start converting solar energy into electricity.
Final checks are carried out.
How much does it cost to install solar panels in Melbourne?
The installation of solar panels in Melbourne is remarkably affordable compared to other regions of the world. According to Nexergy Solar, prices for a 5 kW system are around $ 5,550. A 10 kW system costs an average of $ 12,440. The price includes the inverter, electrical panels, shelf and installation.
An average size home typically only needs a 5 kW system. However, if you have a larger house, you may need a larger 10 kW system.
How much electricity does my home need?
Before deciding on a solar panel system, it is important to determine how much electricity your home needs. One of the easiest ways to determine your electricity usage is to check your monthly electricity bill or check your meter regularly. Most providers also display your usage rate online in an easy-to-read format.
All household consumption rates are different. A large family of four will use more electricity than a couple. A couple can use around 19 kWh per day. However, many things can affect your daily electricity consumption, such as: B. the household appliances. You can use an energy calculator to determine the amount of energy various devices are using to get a better idea of ​​what is using the most electricity.
Do I need a permit to install and connect solar panels in Melbourne?
In Melbourne, if your property is subject to a heritage overlay or is on the Victorian Heritage Register, you will need planning permission to install a solar panel. You may also need a permit if the panels are visible from the street or a public park, as is the case with real estate in Melbourne City.
If the solar system is to serve the country, a building permit is required.
Please keep in mind that if you fail to obtain a building permit or permit on the job, you can be held liable for costly penalties.
For new developments, planning applications must clearly demonstrate that the development has the potential to offer high environmental performance in terms of energy efficiency, as outlined in the local guideline (Section 22.19) Energy, Water and Waste Efficiency of the Melbourne Planning Scheme.
The installation of solar systems in new buildings must contribute to environmental goals. Designers should include roof shapes in their plans along with orientation, access to the sun, slope and appropriate structure. The solar panels can be built into parts of the facade, shading structures and roofs.
In order to connect to the energy grid, you will need to fill out certain forms (usually your solar panel installer will do the paperwork) in order to obtain approval before starting the solar installation.
How to get a quote on solar panels in Melbourne
You can search for potential solar companies online. Search corporate directories like whitepages or yellow pages, or solar markets like Solar Quotes or Solar Choice. You can quickly get online solar deals on these websites by entering your address to be paired with local solar installers. Check out our guide to exact solar panel deals for more tips.
Before contacting a company for a solar quote, have certain information ready:
Your average monthly electricity consumption
Decide what type of system you want: on-grid, off-grid or hybrid.
Know what your roof is made of and how old the property is
A rough budget
A date on which the system should be installed
Always take the time to read the various customer reviews on the installers to make sure they have a good reputation before contacting the company.
Request a detailed quote so you have a clear idea of ​​how much everything will cost. For more information, see our Solar Panel Get Quotes Guide
How to Compare Solar Panel Installers
Here are some tips on comparing solar panel installers in Melbourne
KEK accreditation. Solar installers should have the required CEC (Clean Energy Council) accreditation to install solar systems. This is a great way to apply for Small Technology Certificates (STCs) that can save you money on your installation.

Industry experience. Always consider a company's longevity. Ideally, the company should have served the community for several years.

Customer ratings. Take the time to read reviews on Google, Facebook, and other business directories that provide insight into the company's reputation. The company should have an acceptable track record.
What solar incentives are there in Melbourne?
In addition to reduced electricity bills, there are also government incentives for the installation of solar modules.
The Melbourne Renewable Energy Target aims to achieve 50 percent renewable energy by 2030. To encourage residents to participate, discounts are being offered to encourage the installation of solar panels.
The Solar Homes program discount helps households install solar panels through discounts. Homeowners can also apply for interest-free loans to further add to the discount. With the discounts, households can get up to $ 1,850 off the cost of installing solar PV modules.
Bottom line
Australians have worked hard to achieve 50 percent renewable energy in the near future. Melbournians are also focused on not only saving energy bills for their home, but also becoming more environmentally friendly by installing solar panels. It has never been better to take advantage of solar energy with cost saving discounts and skilled solar installers making competitive deals. Compare the offers of several installers first and carefully examine the installers before choosing one.
frequently asked Questions
Do I have to buy the panels myself?
No, generally your solar installer will order the required solar panels once you've decided on a system to install.
Can I install solar panels myself?
Installing solar panels requires the skills of a professional as the process requires electrical expertise and additional technical knowledge. It can be dangerous to install solar panels yourself without the right equipment and qualifications.
Is It Harder To Sell A Home With Solar Panels?
Solar panels often add value to a home and can even make it easier to sell.
How long do solar panels last in Australia?
Solar panels can have a lifespan of at least 25 years if well maintained and manufactured, although they can become less effective over time.
At what angle and in what direction should my solar modules be installed?
To use the sun successfully, the panels must be placed at an angle of 20 to 30 degrees on a north-facing roof.